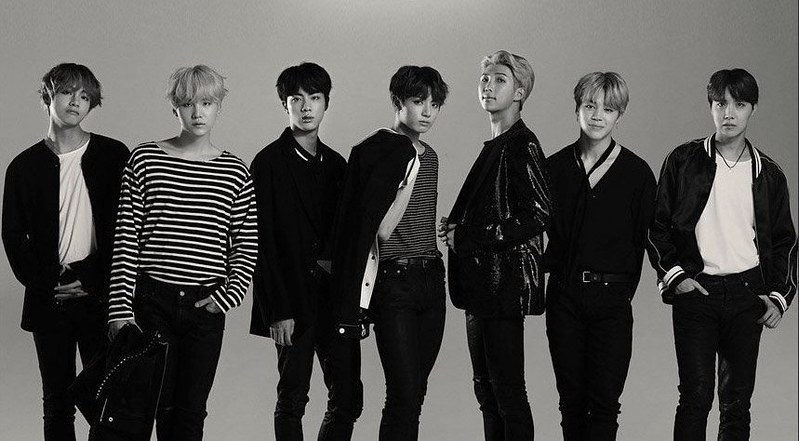 The pandemic may have put different industries to a grinding halt, but it did not stop South Korea's K-Pop industry from flourishing and continuing its dominance as a global phenomenon. Its popularity may have even skyrocketed even more as people stayed at home and had more time to be connected online and glued to their screens for entertainment. Arguably K-Pop is the country's most successful cultural export and Southeast Asia is one of the regions with a high amount of online following for the genre. Now that a few years have passed since the K-Pop phenomenon has gained momentum, we wanted to know which Korean groups are the most popular with our Southeast Asian panelists.
The Results Are In!
In this survey, the panelists chose up to five groups. The numbers show how many percent of participants chose the groups in each country. Check out which boy or girl group is famous in each country and see if one of them might be your favorite band!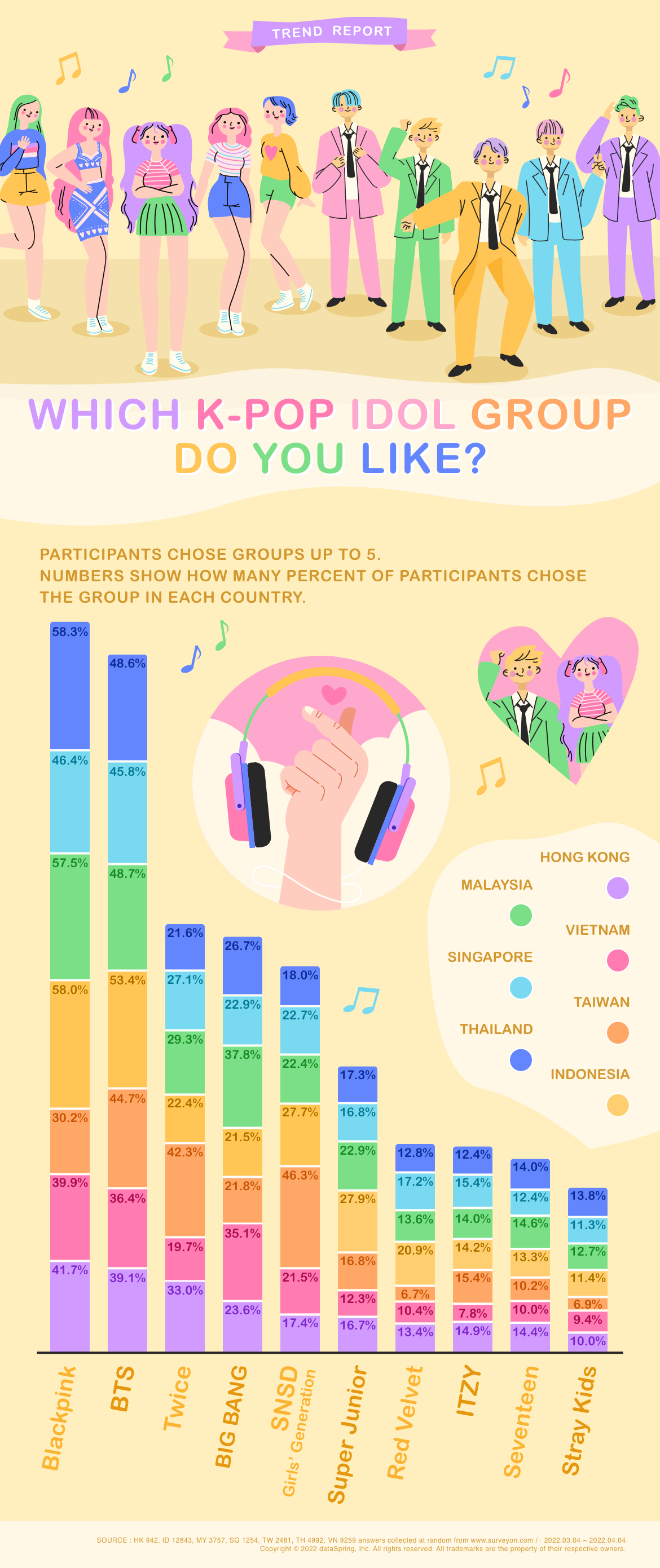 Of the seven countries that participated in the survey, Blackpink reigns as the most popular K-pop group in Southeast Asia, ranking first in Hong Kong (41.7%), Vietnam (39.9%), Indonesia (58%), Malaysia (57.5%), Singapore (46.4%), and Thailand (58.3%)
BTS is a close second, as the group ranks first in Taiwan (44.7%) and just behind Blackpink in Hong kong (36.4%), Vietnam (39.1%), Indonesia (53.4%), Malaysia (48.7%), Singapore (45.8%), and Thailand (48.6%)
They are followed by Twice and Big Bang, with their results for each country not that far from one another. Other second-generation K-pop bands SNSD (Girl's Generation) and Super Junior are also just right behind, proving that they still hold a strong fanbase.
It may seem like K-pop's emergence happened quickly, but the Korean wave actually started in the '90s, when the first generation of K-Pop artists discovered the recipe for stardom: genre-bending music, attractive performers, flawless appearances, and intricate choreography. This blueprint is then passed on to the succeeding generations of idols. Today, third-generation K-Pop groups dominate the charts, thanks to the massive support of their fans who are willing to spend more for their idols. This widespread popularity led to brand partnerships or collaborations from different industries worldwide, ranging from consumer products to banks.
Interestingly, the global impact of Korean pop culture also blended into some of the cultures in Southeast Asia. K-Pop fans are known to celebrate milestones and birthdays of their idols with great dedication in professing their support to the extent of renting hundred feet billboards, bus ads, and, digital ads which became a popular trend. In Thailand, fans were able to make an opportunity out of this trend to support the drivers of Thailand's cultural rides called 'Tuk-tuk', which suffered greatly during this pandemic. Fans have recruited Tuk-tuks to display their idol's banners for a certain period of time. How these fans were able to turn their fan moments into activism for their local community just proves how strong the influence of K-Pop is especially in the Southeast Asia region.
Do you want to share your opinions and earn some points on the side? Sign up now and become part of our surveyon panel! We'd love to hear what you have to say!